Is Dental Assisting a Good Choice for Me?
While anyone who has a strong desire and a committed work ethic can succeed as a dental assistant. Those with many of the following characteristics are most naturally suited for dental assisting
Good listener
Compassion
Being a people person
Strong work ethic
Dedication
Learns best by visual, hands-on methods
Personality is outgoing – loves people
Enjoys multi-tasking
Works well on your feet, moving around
Enjoys a fast-paced environment
Committed to personal oral health
Generally healthy and health-conscious
Works well in groups
Gets satisfaction from helping others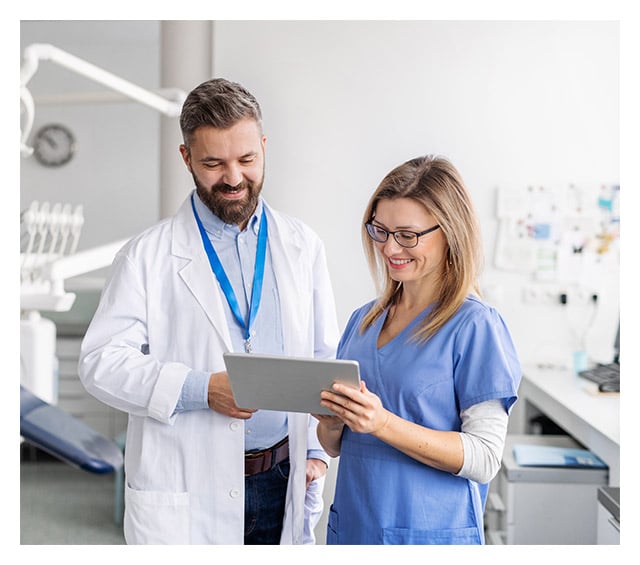 7 Reasons to be a Dental Assistant
1. Working Conditions
Can't stand the thought of staring at a computer screen all day? Dental Assistants enjoy the freedom to move around and interact with a lot of people. They perform a variety of tasks — from assisting dentists with procedures to processing X-rays. Still, there is time to sit and relax while they maintain patient records and schedule appointments. Dental offices tend to be clean, safe, and upbeat work environments.
2. You Can Work Anywhere
With a Certificate in Dental Assisting, it's difficult to feel tied down. Dental Assistants are needed in every part of the country, from big cities to smaller towns. And with so many types of specialists in dentistry — from oral surgeons to orthodontists — there are plenty of different types of offices and clinics you could work in.
3. Connecting with Patients
Working as a Dental Assistant, you'll quickly realize your importance in the office. Patients will rely on you for assurance, comfort and hospitality when they're nervous. A welcoming smile can make a big difference in a patient's visit, and rarely will they hide their thankfulness.
4. Gateway to Other Opportunities
Becoming a Dental Assistant is a great way to get your foot in the door of the dental industry. If you decide to go a different direction after a few years of working, you'll be in a great position to become an office manager or dental assisting instructor. You'll also have an excellent foundation for continuing your education to become a dental hygienist or an Expanded Duty Dental Assistant.
5. Job Outlook
There will be a huge demand for Dental Assistants in the coming years. With the career projected to grow 19 percent through 2026, according to the U.S. Bureau of Labor Statistics. Those with Dental Assisting diplomas can be picky about where they want to work. That means opportunities for better pay, more benefits, and more respect on the job.
6. Fast Training
Why spend a year in the classroom. With Genesis Dental Assistant School you can have a new career in 10 weeks. Finish your training quickly and get to work fast.
7. Pay and Benefits
While the cost of training is relatively low, the income potential of a Dental Assistant can be exciting. The median annual wage for Dental Assistants was $37,630 in 2017 nationally, with the highest 10 percent earning more than $53,130 per year across the US, according to the U.S. Bureau of Labor Statistics. In Utah, Dental Assistants earn an annual mean wage of $38,660 in 2017 — about $18.59 an hour. Most Dental Assistants receive a combination of paid holidays, bonuses and incentives, free dental care, Medical insurance, and retirement contributions.